Is Buying a Home Really More Stressful Than Planning a Wedding? [INFOGRAPHIC]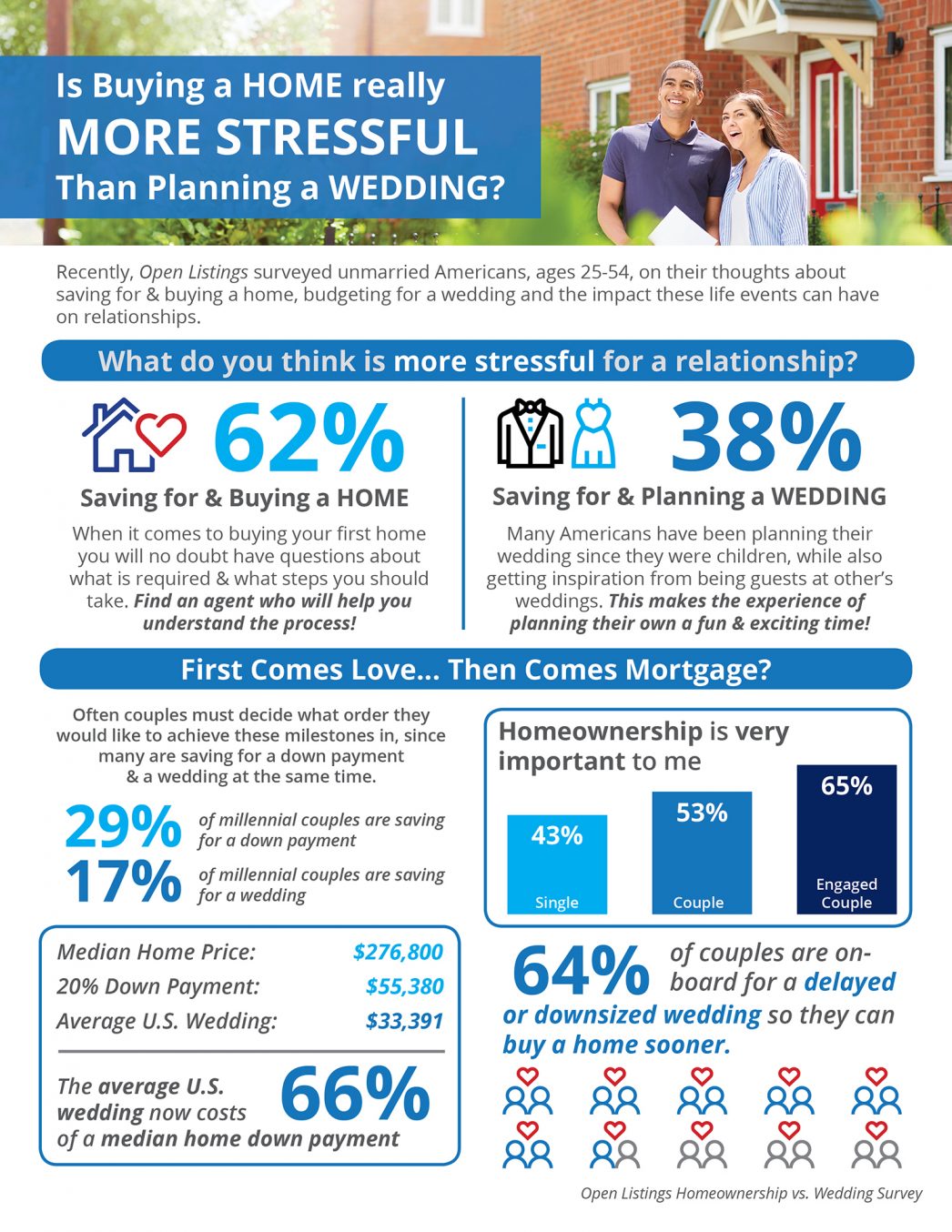 Some Highlights:
According to a new survey from Open Listings, 62% of Americans ages 25-54 believe that buying a home is more stressful than planning a wedding.
Many young couples are saving for a wedding and a home at the same time.
The average US wedding now costs 66% of a median home down payment, according to The Knot.
Less Stress Home Buying with Kim
Buying a home with Coachella Valley Realtor Kim Chiarelli is fun and productive. Kim has the knowledge of local country clubs, golf courses, non-HOA communities and resources for all types of services that make moving to Coachella Valley simple and pleasant. Check out the following review from Kim's recent transaction on 9/14/2018
"We have bought & sold several homes across the country and worked with several different Realtors. Kim, is the ONLY ONE, who has impressed us with her honesty, knowledge, resources and most of all her patience & skills in finding our perfect home. As buyers from out of state, for almost a year, she researched every listing, pre-viewed them herself and even face timed us any potential ones, prior to us flying in to see them. She kept us informed of the market trend in the area and researched numerous listing and guided us accordingly. She helped us understand every community in the area by showing us the pros and cons of each. And targeted the best suited for our lifestyle. When it came to negotiating on our behalf, it was if she was buying the home for herself. She negotiated a fantastic price with warranties included, handled getting a top notch professional inspection on the entire property for our protection, and made the entire process as out of state clients, worry free. She is not only our Life Time Realtor but a True FRIEND and FAMILY MEMBER !!!" 5 Star Zillow Review
Having a local expert Realtor who listens to what you want in a home, tirelessly searches through inventories to make a short list of properties, helps you easily navigate the neighborhoods to view homes and cares to make sure that you are acclimated to the community is what you will find in a partnership with Kim Chiarelli. If you want this type of Realtor, contact Coachella Valley Realtor Kim Chiarelli at 760-895-8457 or CaDesertLiving@gmail.com.